Industrials Automation
Harness the Power of Advanced Automation
Automation is critical for manufacturers around the world to increase productivity, streamline processes, and reduce workplace injury. Accuologic works with companies to provide safe, flexible, and cost-effective automation solutions for your production line.
Test Solutions for Industrials
Scorpion BRiZ
The Scorpion BRiZ is a great solution for manufacturers seeking a cost-effective way to automate testing. The automated test and programming platform can easily be configured to perform in-circuit, in-system programming, and functional and boundary tests. Safety and use of floor space in manufacturing are critical, and the Scorpion BRiZ is one of the most versatile, compact, and low-cost automated test and programming stations on the market.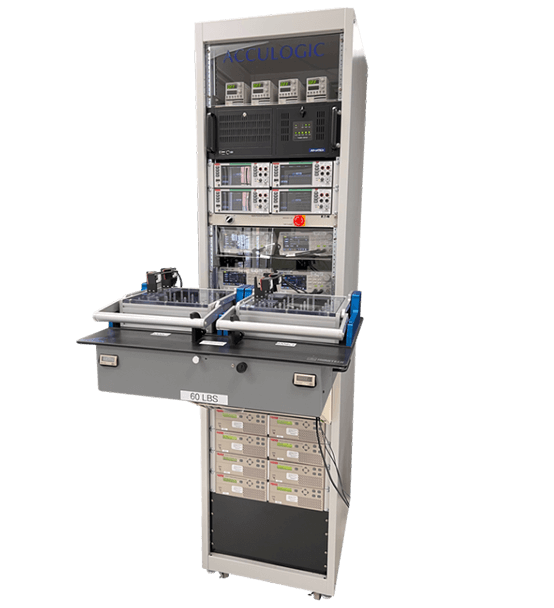 Functional Test Systems
Don't let time and resources limit you from achieving repeatable, scalable manufacturing. We offer commercial functional test systems for a wide range of test applications. Acculogic works with a variety of industrial manufacturers. No matter the industry or technical specifications, Acculogic can provide solutions designed for production testing and optimized for reliability, throughput, repeatability, and cost.
Enhance Your Manufacturing Capabilities
Automation is changing the face of the workforce. Technology is here to work with us to help create new opportunities and streamline processes. Advanced automation solutions fill labor gaps by removing time-intensive, tedious, and repetitive tasks. Improving testing methods and removing tasks such as low-value transportation or machine tending open up new possibilities for value-oriented and human-driven activities, like lean improvements, production innovation, and creative problem-solving. Discover how our platforms enable better manufacturing processes with unparalleled support, reliability, and cost-effectiveness for most functional test challenges.
Discover a Competitive Advantage
Do you have questions about our test systems or how to improve your test method to improve manufacturing?
Contact Us