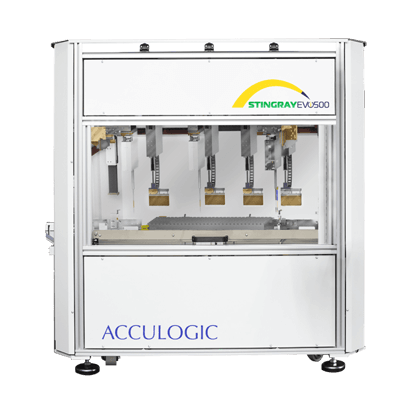 STINGRAY EVO500 Battery Tester
Quick, Reliable, and Cost-Effective Battery Module Interconnect Testing
Engineered for Performance
Single or double-sided probing with up to 22 probe modules provides optimal access, allowing simultaneous testing of both sides and saving you time
Configurable platform can handle unique applications, eliminating the need to invest in multiple tools
A first-to-market solution and a large international install base instill confidence in the system
Scalable systems allow you to buy what you need today and add to it in the future, making it affordable
Test up to 3,000 interconnects/mins*
Highlights of the STINGRAY Battery Tester
Double Sided Test
Fast Test Speed
Prototype & Production Use
Configurable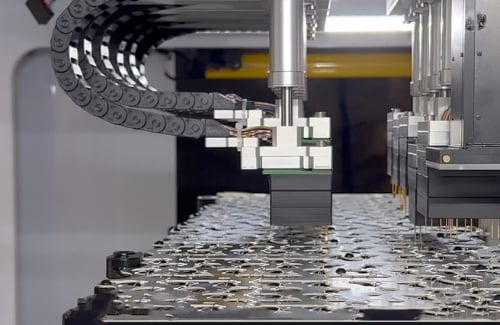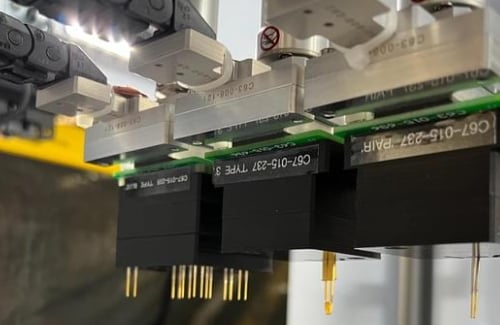 THE STINGRAY BATTERY TESTER IS USED & TRUSTED BY
3 of the Top 10 Battery Manufacturers for Configurability, Ease of Use, and Speed.
Every battery array that moves along the production line must be verified for the integrity of its interconnects. World-class manufacturers keep their production lines moving smoothly by investing in quality verification systems that quickly and reliably test the manufacturing quality of battery cell interconnects. By choosing the patented STINGRAY test platform, manufacturers gain a commanding advantage. The STINGRAY has repeatedly proven its value and technology with over ten years of production use and hundreds of thousands of battery arrays tested.

Poor quality cell interconnects can lead to several problems, such as increased resistance, leading to increased heat generation, voltage drop, and reduced overall performance. Also poor interconnects can also lead to safety hazards such as arcing, which can cause fires or explosions.

Battery cell interconnect issues must be caught during battery production. Otherwise, field failures can be costly and harmful to a company's reputation. For battery manufacturers, it is critical to have a production test solution that can quickly, reliably, and cost-effectively test battery module interconnects.
A Superior Solution for Battery Test
The STINGRAY EVO500 will be a game-changer for your battery production test.
Having 1 STINGRAY is like having dozens of hardworking, unerring, untiring test technicians committed to thoroughly testing all your battery modules for on-time shipment.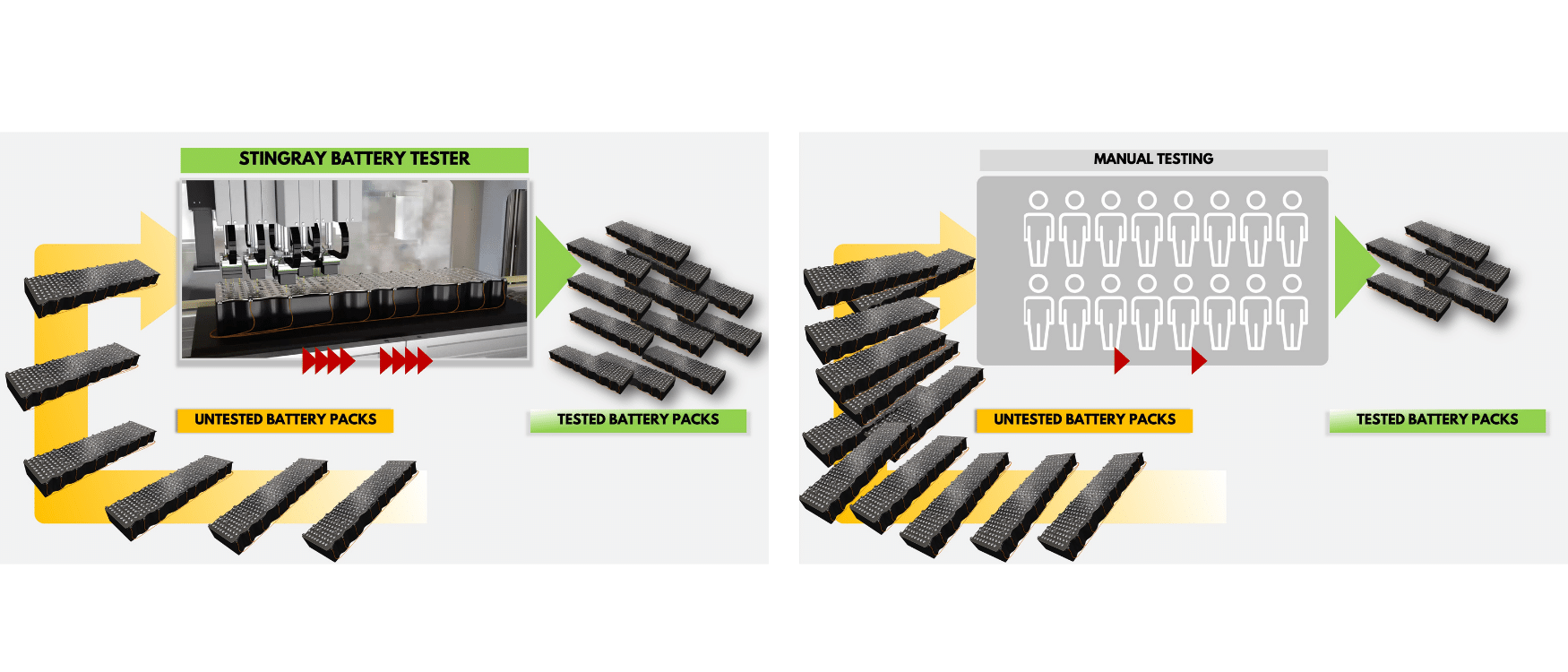 Patented, Industry-Leading Technology
Proven, Precise Technology
Accommodate Multiple Heights Multiple Forces
Programmable Speed for Maximum Throughput
Measurement Methodology Ensures Accuracy, Reliability & Repeatability
The STINGRAY uses 4-wire resistance measurement method to measure interconnect quality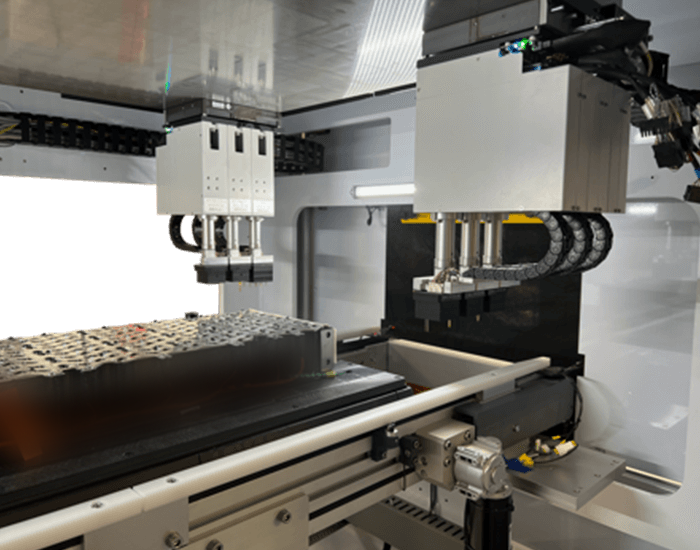 Independent Robotic Positioning System delivers maximum
Accuracy
Flexibility
Coverage Area
Double-sided probing - Up to 11 top-side & 11 bottom-side probe modules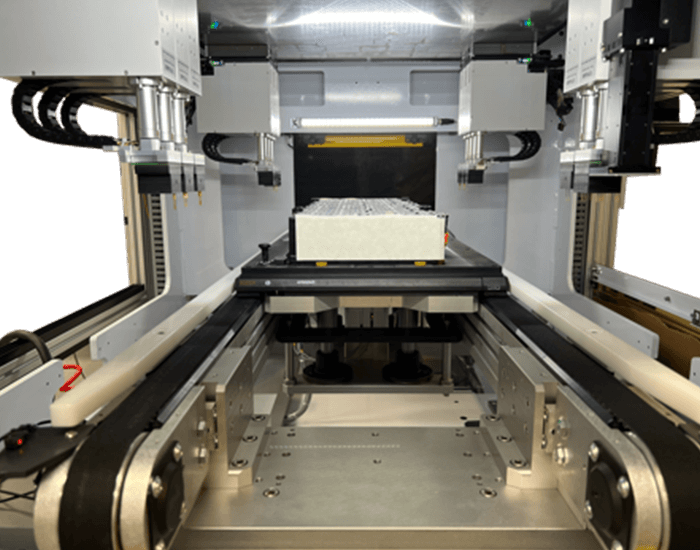 Maximizes battery testing throughput by:
Optimizing test sequence
Testing multiple cell patterns
Simultaneously testing single or multiple cells
Benefits of the Stingray Automated Battery Test Solution
Increases production output by improving efficiency, reducing errors, and minimizing downtime with in-line handling - automates the movement of products by connecting and coordinating the tester to work together with conveyors, robotic arms, and other handling systems.
Integrates with MES (Manufacturing Execution Systems) for enhanced data acquisition & reporting for improved inventory management, quality control, and performance tracking. Automatically segment data based on various criteria, such as time, location, or product type.
Tests up to 3,000 interconnects/min. (Actual number depends on the battery pack design).
Non-destructive testing - The integrity and performance of the electrical connections between battery cells are tested without any damage to the interconnects.
Largest test area without repositioning or incrementation - Repositioning refers to physically moving the UUT to a different location on the test bed. In contrast, incrementation refers to making small adjustments to the UUT's position to test other parts of it.
High-Resolution Camera System and the machine vision algorithm quickly detect and identify fiducials, which are used to establish a common coordinate system for measuring, alignment, and registration.