Testing Solutions for Aerospace & Defense
Get Proven Performance, Experience, and Dedicated Support for Mission-Critical Testing
Aerospace and defense equipment requires the highest quality checks and standards. Our automatic test equipment provides exceptional reliability to ensure product performance in critical environments and conditions.
Dependable Test Solutions and Products
Scorpion BRiZ
The Scorpion BRiZ is an automated test and programming platform that can be configured to perform in-circuit, functional and boundary tests, and in-system programming. Equipped with a quick changeover, The Scorpion BRiZ is one of the most compact, low-cost, and versatile automated test and programming stations available. Meet EV product delivery timelines while having superior test coverage using an affordable, reliable tester.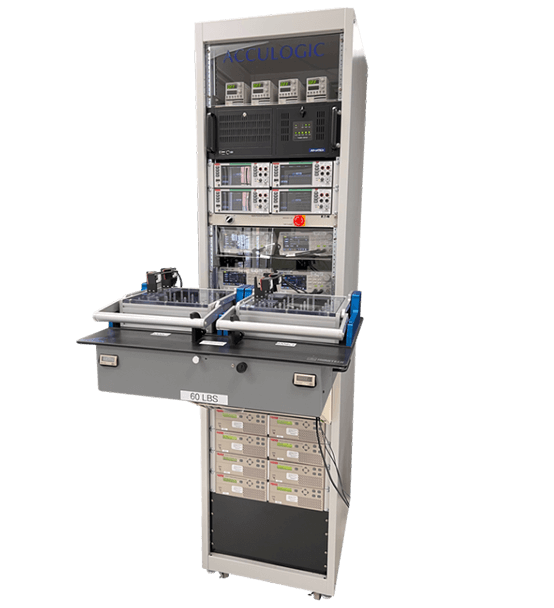 Functional Test Systems
We strive to keep pace with EV developments through our extensive experience in test equipment. Our engineers offer commercial functional testing systems for a wide range of ATE applications, especially for semiconductor testing in automotive manufacturing. All of our test systems designed for EV product testing are optimized for repeatability, dependability, throughput, and cost.
Unparalleled Support for Defense & Aerospace
Acculogic's aerospace and defense products are designed to support all levels of ATE deployment. We have extensive experience providing complete test solutions, sustainment support, and engineering services necessary for successful long-term deployment. Our solutions support a full range of testing applications and environments, including in-line and end-of-line board and system-level tests. Field or depot test, diagnostics, and repair capabilities can be readily added. All of our platforms offer unparalleled support, reliability, and cost-effectiveness for most functional test challenges.
Innovate Your Test Strategy for Advanced Systems
Have questions about our systems or how to improve your test method to make your electric boards operate defect-free for their lifespan?
Contact Us