Functional Test Services
Technically advanced custom functional and end-of-line board and system-level test systems
What if you came to work today and realized that the production output from the past week that was shipped to your customers had a high failure rate? Well, today is not that day, nor will tomorrow or any days that follow. That's because your Acculogic functional tester gives you the confidence to ship defect-free products.


Acculogic creates a smooth path for you to ship products on time by building technically advanced custom functional and end-of-line board and system-level test systems. So, take the doubt out of your product's conformance, and gain confidence in your product's performance.
What Sets Acculogic Apart from the Competition?
With numerous functional test development services options, you can be pulled in different directions without knowing which is right for your project. Acculogic sets itself apart by:
So, to put things in focus here is why Acculogic could be your best choice:
We assist you with the clarity & completeness of your SOW - having a clear and comprehensive SOW is essential for the success of any project. That's why we will work closely with you to ensure that your SOW is comprehensive and complete.
You can count on fast customer support - we understand that time is of the essence when it comes to troubleshooting and resolving any issues.
Open & Responsive Communication – we will keep you informed throughout the course of your project
A dedicated Project Manager is assigned to each project
We'll deliver so you can meet your timelines
Technology & Components
PXI(e) and box instruments, power supplies
NI LabVIEW, TestStand, C#, Python, Acculogic Integrator, embedded software
Cloud Data Connectivity
Smart, swappable fixtures, chambers, nests, and handlers
Mass interconnects and harnesses
Actuators and sensors
Vision inspection and machine vision systems
Robotics, pneumatics, hydraulics, and conveyor
Acculogic Functional Test Services Delivers the Results You're Looking for
Delivering hundreds of projects has given us a solid understanding of what is essential to our customers and what companies are looking for in a functional tester.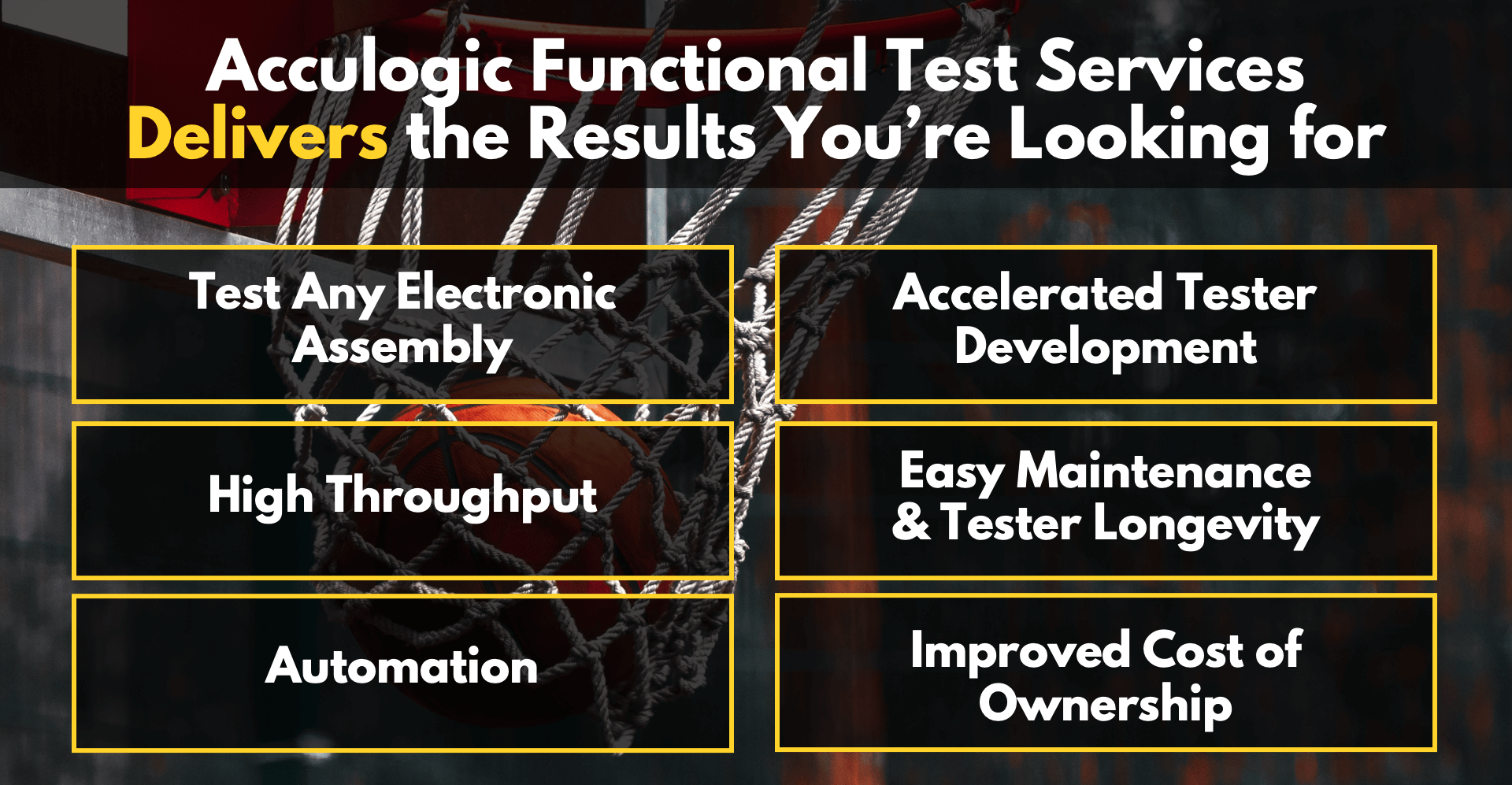 Regardless of its complexity or size, test all electronic assemblies.

Achieve your test requirements with multiple measurement characteristics such as:
Voltage & Current
Analog & Digital Signals
LED Test & Characterization
RF Signal Integrity
Using a proven 9-step process, we'll deliver your system in the shortest possible time without any compromises.
Reduce labor costs, minimize handling, and boost production capacity. Also, test data can be saved to the cloud and/or automatically entered into your existing databases.
We engineer systems with durability and longevity that are easy to troubleshoot & maintain so you can keep testing.
Easy to service
Minimize any downtime
Fast access to support
Remote access support
Scalable architecture
Modular software
Easy hardware changes
Design for maintainability
Reliable testers that are simple to operate and adaptable to your needs.
Delivering Outstanding Testers That Fit Your Budget

See our sample projects.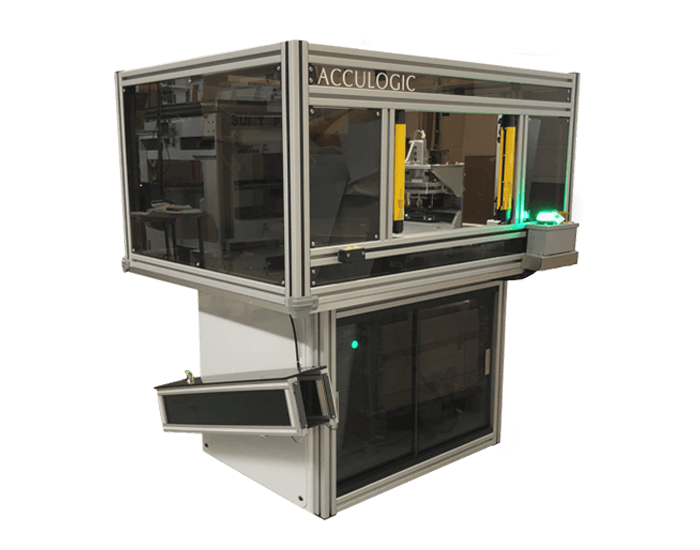 Multi-station operation
Featuring
Test & measurement of capacitance & resistance, power-up voltage test for a variety of PCAs
Parallel processing
Light curtain safety system
Automated failed board counter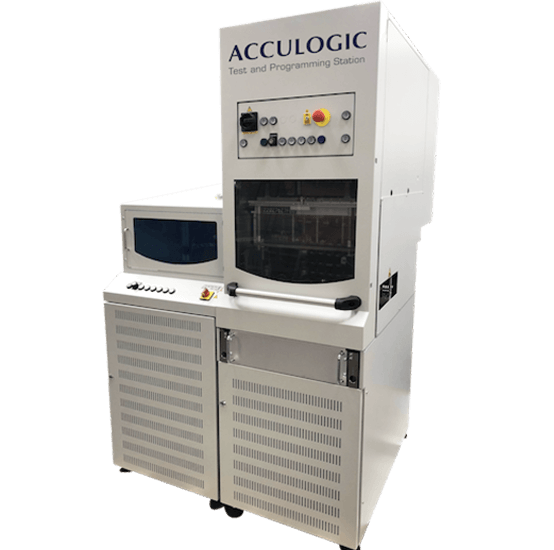 Inline in-circuit test & programming station
with customized fixture for inline operation.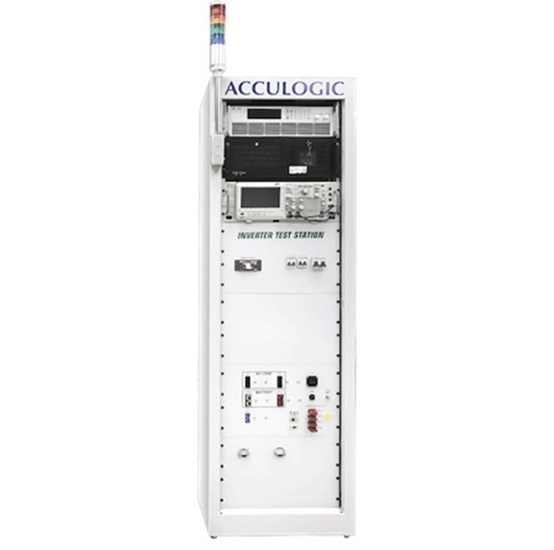 Smart Power Inverter Test Station
High current, high voltage tests using load simulator, solar cell simulator, and battery simulator.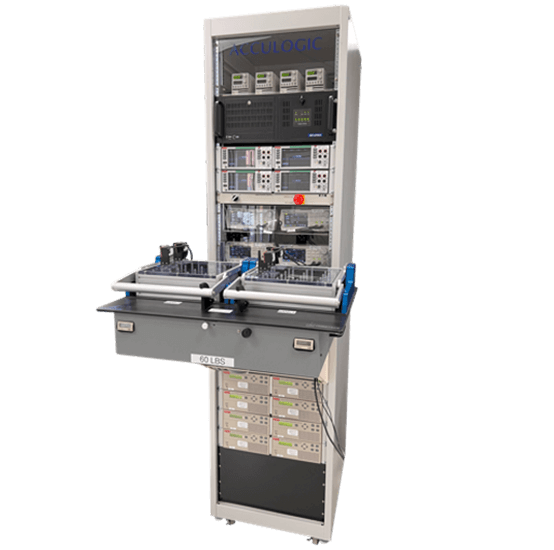 True Batch Processing, Dual Well Fixture
4 boards/ well for the simultaneous test of all 4 boards. Test a variety of parameters such as waveform interpretation, duty cycle frequency, peak to peak voltage. All tests were performed according to FDA guidelines.
Our 9-Step Test System Development Process
Using a proven 9-step process, we accelerate the conversation of your test requirements to a test solution.
1. Review of the Unit Under Test (UUT) and the Statement of Work (SOW)
The initial step in a project is for us to understand the characteristics of the UUT and your requirements and expectations for the project.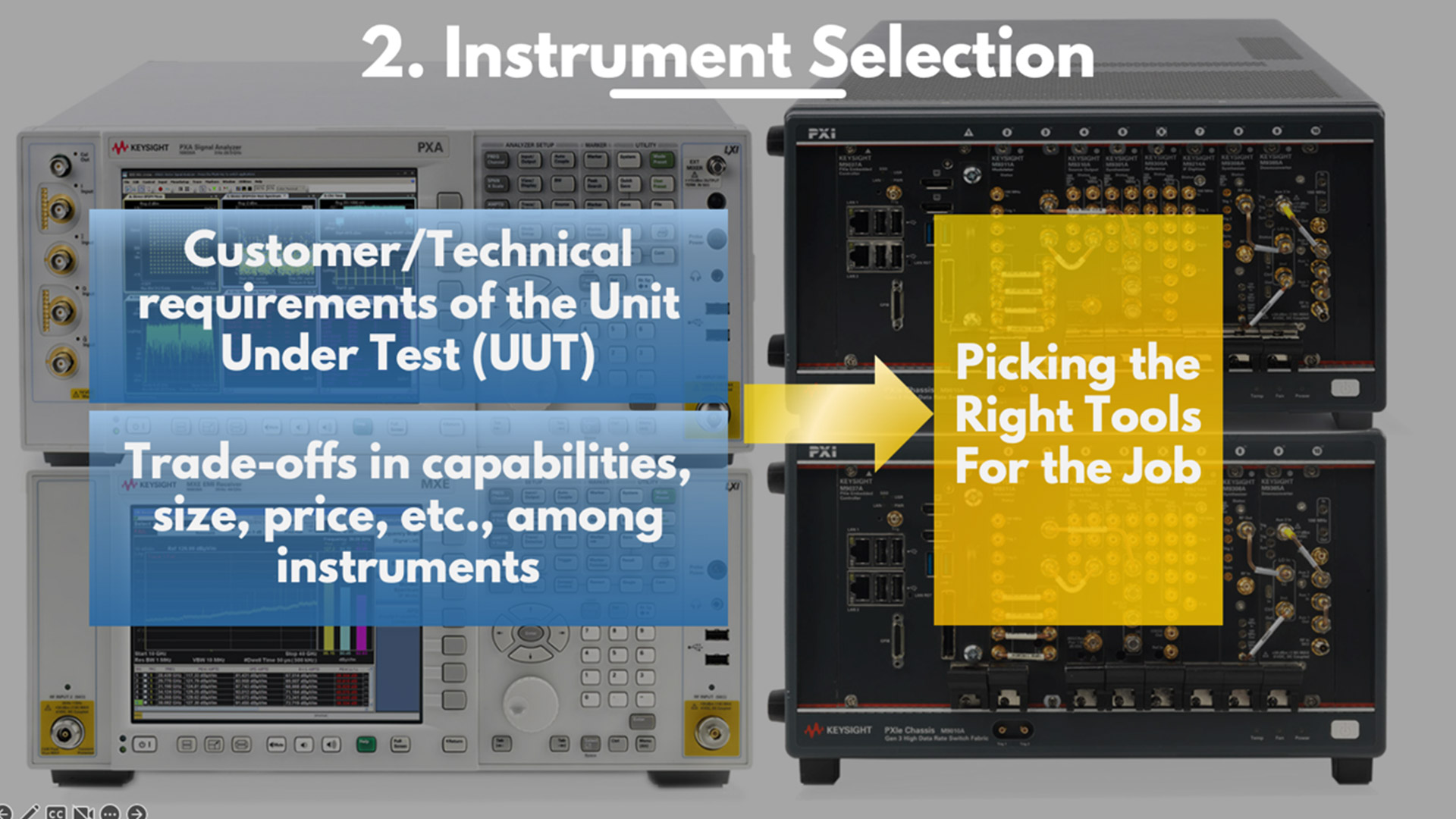 2. Instrument Selection
Choosing the right tools for the job can be tricky, especially when it comes to navigating and evaluating the many trade-offs but with the right tools, you can get the right result in a fraction of the time.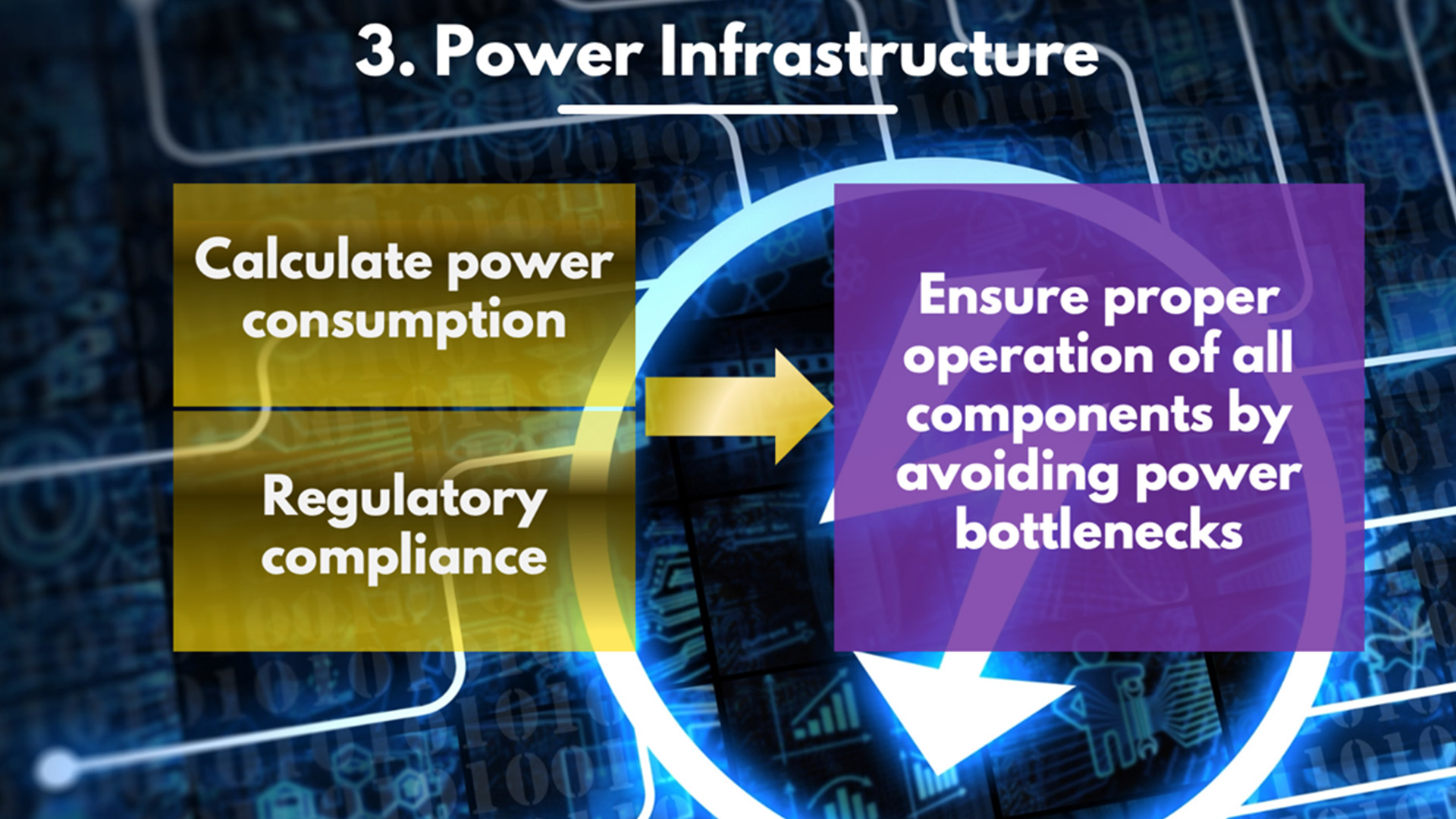 3. Power Infrastructure
Test systems have heterogeneous internal components, some of which require large amounts of current and power. Moreover, these systems are often deployed globally in facilities with varying power sources and quality. So, a power layout is the right way to ensure proper power distribution to all components within a tester.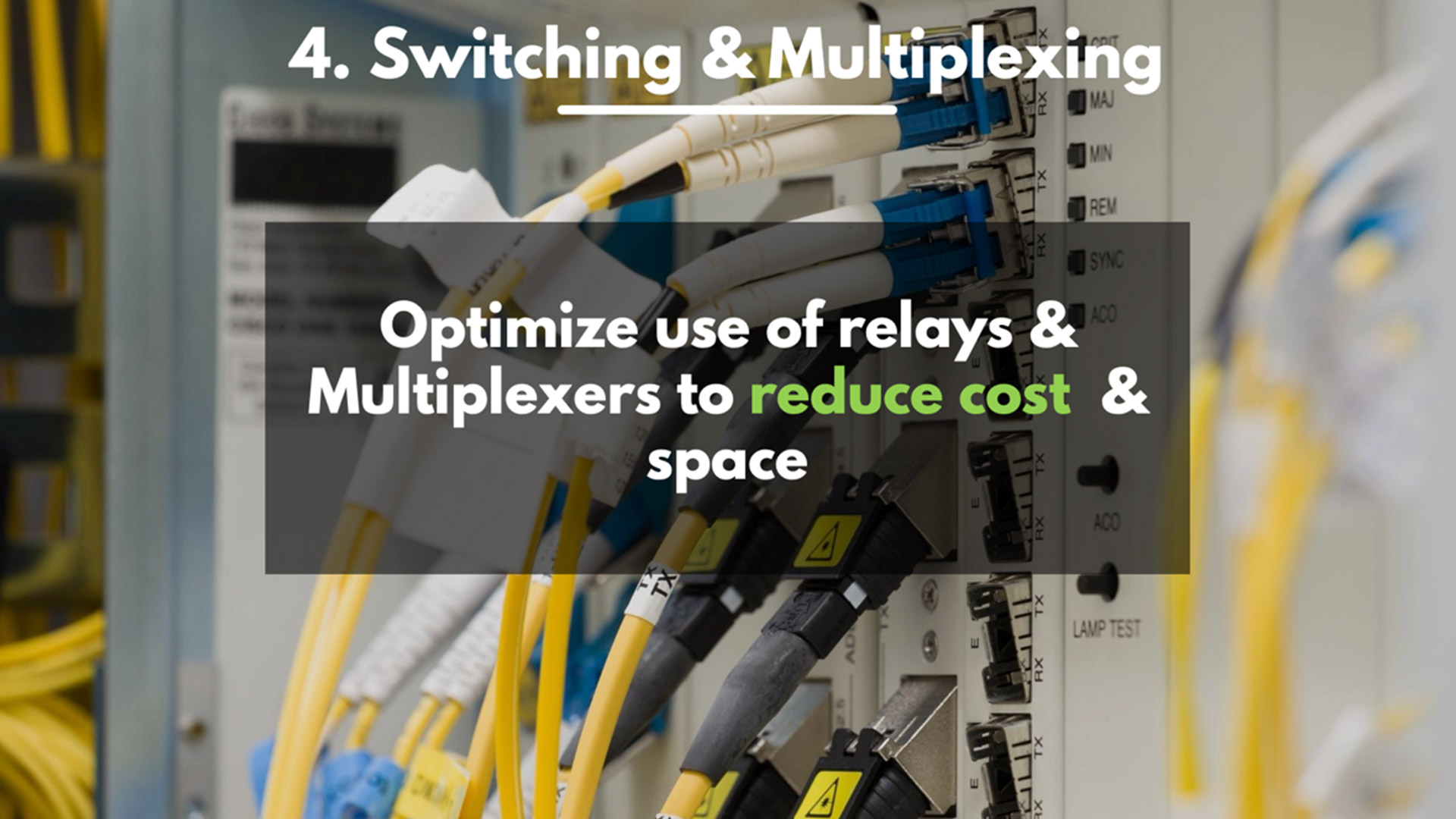 4. Switching & Multiplexing
This allows for more efficient test connections and enables parallel testing, which can significantly increase the test throughput and decrease the test time and cost.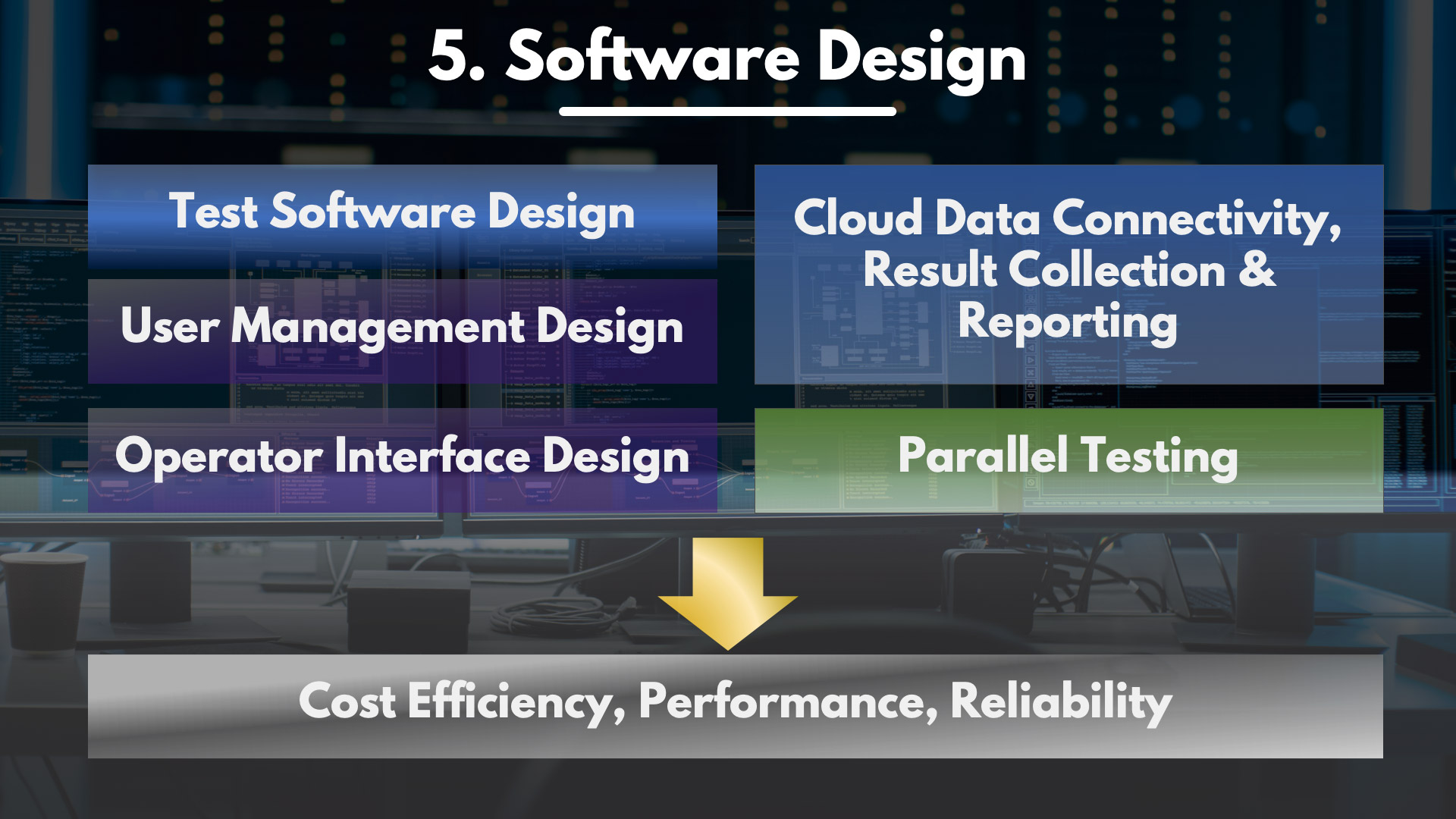 5. Software Design
The test software is the backbone of a functional tester. It controls the operation of the tester, including the acquisition of test data, the execution of test sequences, the operator interface, and the analysis of test results. Well-designed software is critical for ensuring the efficiency and reliability of the test process.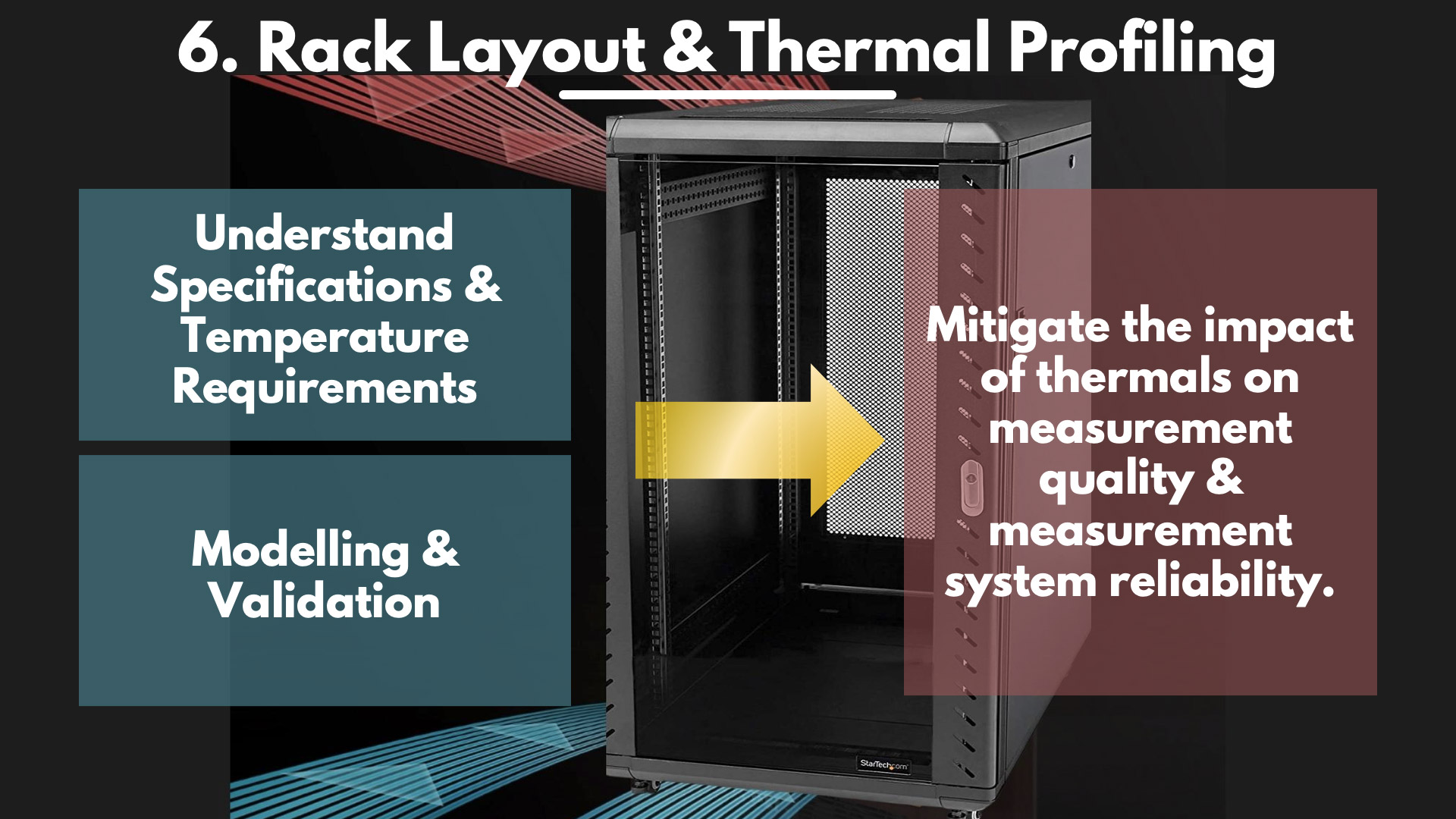 6. Rack Layout & Thermal Profiling
By validating the effectiveness of the rack layout and cooling systems, a tester can operate at optimal conditions. The arrangement of components in a tester cabinet greatly impacts the reliability and uptime of the tester. Identifying hot spots and potential problem areas prevents overheating and equipment failure.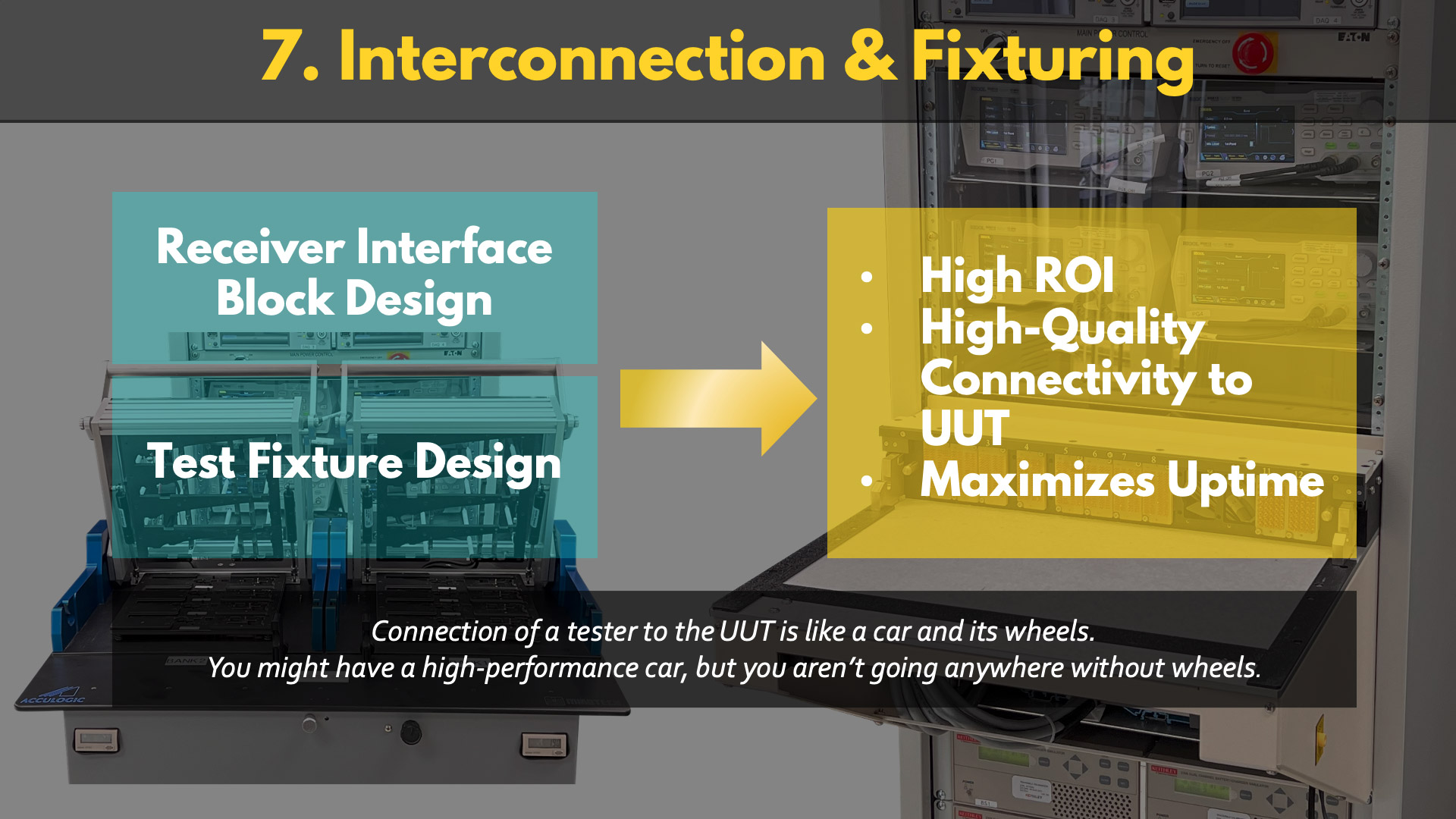 7. Interconnection & Fixturing
When done right, fixturing can help speed up the testing process and improve the quality of the test results.
8. Test Application Debug & Development
Optimized test programs are developed and checked to ensure the test sequence is reliable and repeatable and achieves the highest test coverage.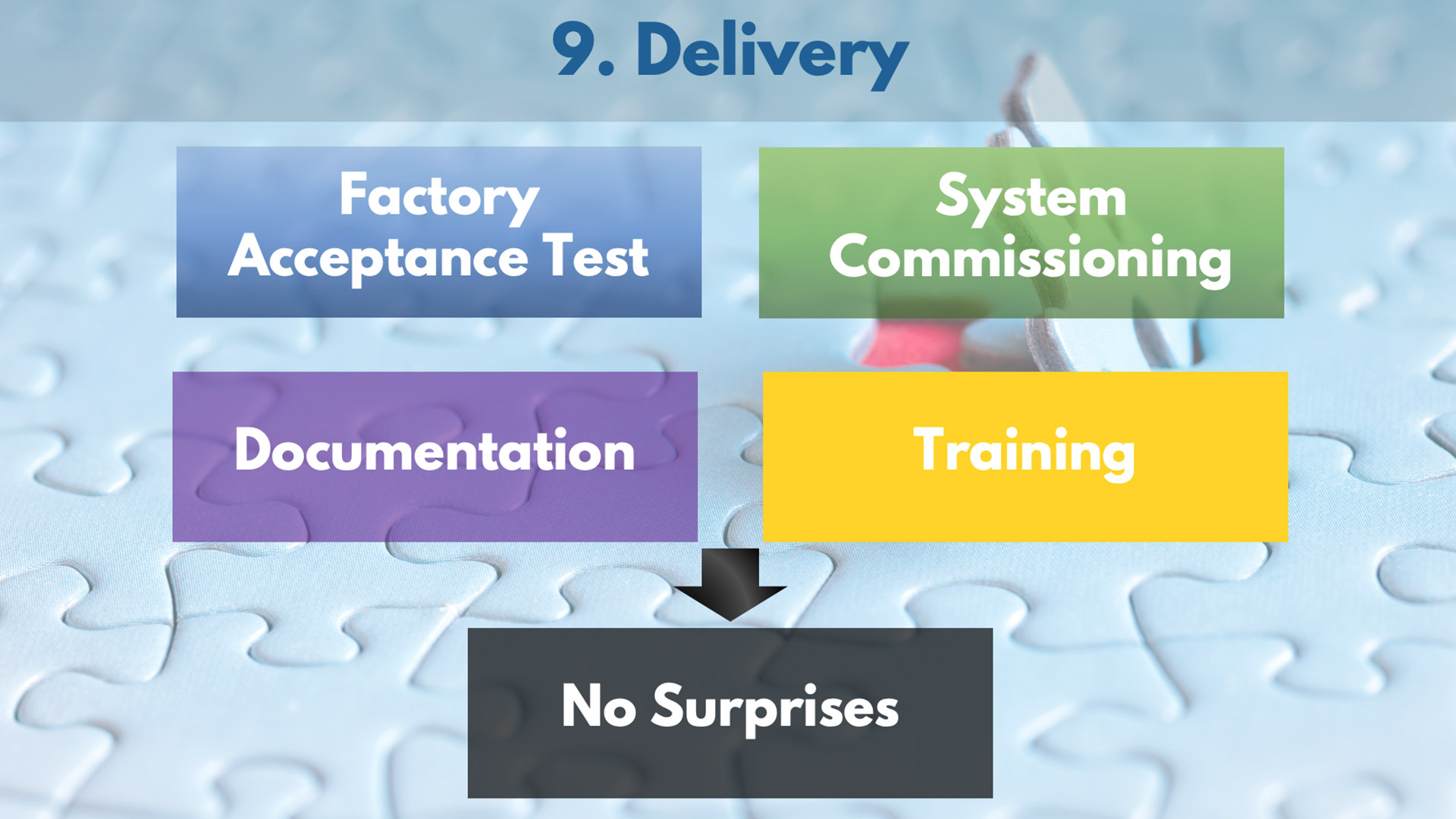 9. Delivery
Our process doesn't just end with the completion of the test system. We'll make sure that the system is ready for production and use.
Find a Better Test Strategy
When you work with Acculogic, you choose a trusted path to ship defect-free products on time with a test strategy that balances your tester and fixture costs, test objects, cycle time requirements, and tester development schedule.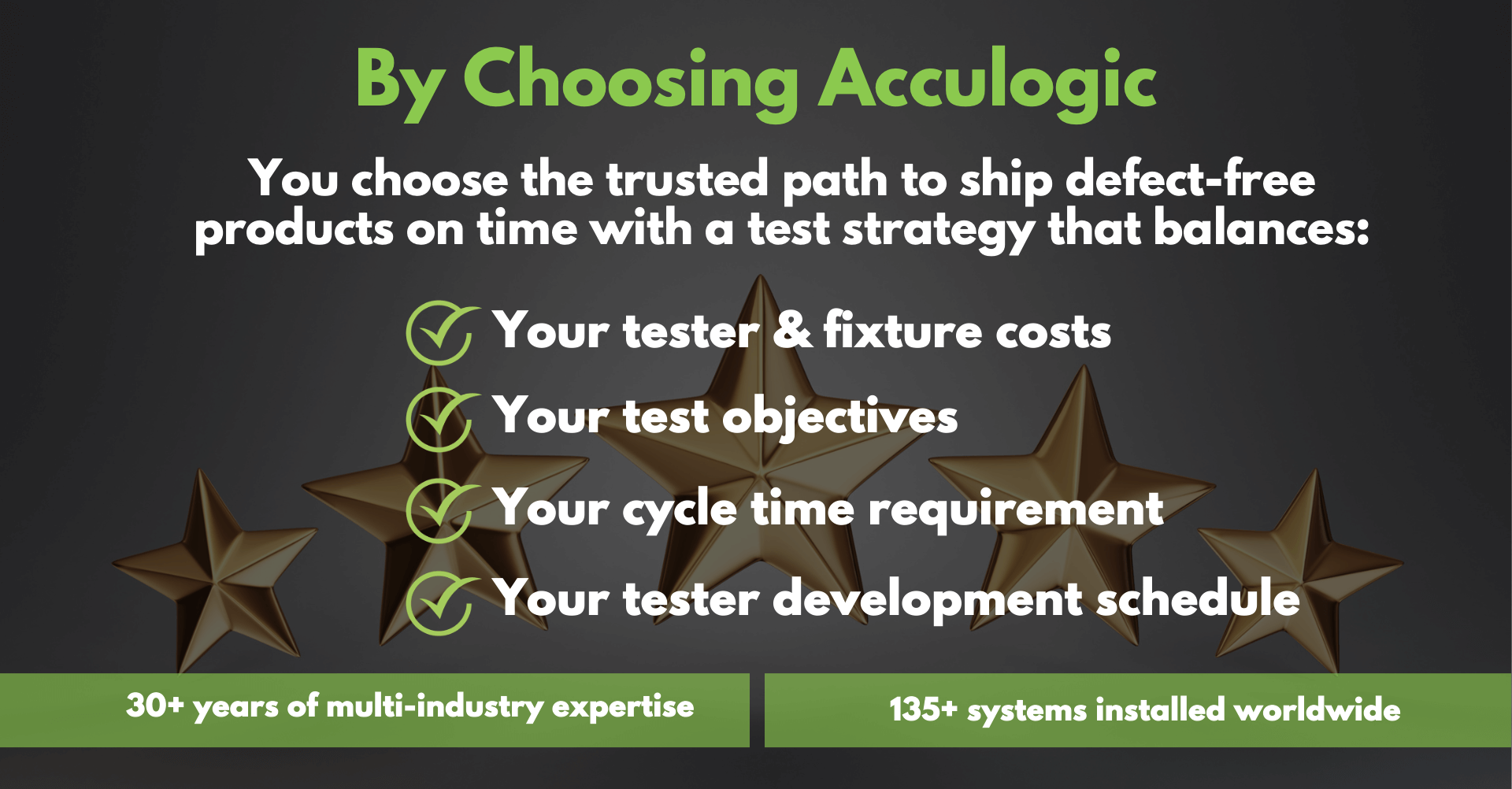 GET STARTED